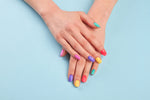 Is It Worth Doing Gel Nails At Home And Should I Get A Kit?
Just like most of the women out there, are you also wondering is it worth doing gel nails at home? Confused about whether you should get a DIY gel-nails kit to pamper yourself without professional help? Well, you are in the right place. In this article, we will answer all your queries about doing gel nails at home.
DIY Gel Nails at Home: Is A Gel Nail Kit Worth It?
Ever since the break down of the pandemic and the frequent imposition of lockdowns in many parts of the world, it has become more important than ever to learn self-grooming rather than depending on stylists. Furthermore, you can also save a lot of money per year while ensuring the safety of your family if you learn to do your nails perfectly at home.
If you are thinking you cannot pamper your nails at home, you are absolutely wrong. Why keep your nails from all that fun just because you are locked inside? Do your hands not deserve that extra love and attention just because you cannot get yourself to the salon? Of course, they do. So, if you are confused is it worth doing gel nails at home, please keep on reading to find the answer!
Things You Needed to Know Before Getting Gel Nails at Home
If you are impressed and ready to try doing gel nails at home, here are a few things you must know:
       

Prepare your nails before applying the gel polish to make them look more professional and durable.

       

Remove the dead skin cells to make your manicure look healthier.

       

Hydrate and push your cuticles back.

       

Smooth out uneven edges and work on your base coat very carefully.

       

Immediately place your hands under UV light to instantly harden your gel polish.
Why Get Gel Nails at Home & Invest in a DIY Gel Nails Kit?
With the quarantine limitations, busy routines, and expensive bills, gel nails can be burdensome despite how beautiful they look. Giving up the idea of those gorgeous nails is not a smart option when you can opt for an at-home gel nail kit, do your nails easily, and get the paparazzi talking. Here are the top five reasons you should consider doing gel nails at home if you are wondering is it worth doing gel nails at home:
1. Gel Nails are Budget-Friendly
Since gel nails are all the rage these days, getting them in the salon can burn a hole in your pocket. Why invest so much at a salon in one-go when you can do your nails at home with a DIY kit almost four to five times?
2. They are Super Easy
Doing gel nails might look difficult but it isn't. Making a smoothie looks difficult too until you give up the procrastination and do it yourself, right? So, why spend almost 4x the price of something when it is so easy and doable. We believe in you! Don't underestimate yourself and try doing your gel nails today!
3. Getting Them Is Very Quick
Why spend hours waiting at the salon for your turn when you can grab the kit from your vanity and get started with the creativity straightaway?
4. They Hush the Accident Woes
We know the pain that a lady goes through when she just gets back from the salon and chirps her nails. Gel nails are super sturdy and durable so that you don't have to worry about getting them redone again and again. And that's what makes them pretty expensive in salons! So, do it yourself!
5. Most Importantly, They Look Luxurious
Most importantly, gel nails look absolutely stunning and exude royal vibes your way without even spending a lot of money on them (of course, if you opt for a DIY kit).
Things Included in an At-Home Gel Nail Kit
If you are intrigued with how easy and affordable it is to get your gel nails done at home, are you wondering what's inside a DIY gel nail kit? Well, the bestselling Gel Nails Kits sold by Luxe Cosmetics come in three types viz. four colour Mini set, nine colour Luxe set, and thirteen colour Deluxe set. Despite the kit sizes comprising of 4, 9, or 13 polishes as per your choice, here is what each gel nail kit comes with:
1. Prep & Polish Liquid
To prepare your nails for the gorgeous manicure you're about to do!
2. Base Coat
If you don't want to use harsh chemicals to remove your nail polish later, a peel-off base coat is meant for you. Included in the DIY kit, this base coat allows you to get creative on an artificial layer of gel polish that you can easily take off when desired.
3. High-Shine Top Coat
Each kit also comes along with a high-shine top coat to seal off your manicure with a long-lasting, glossy polish.
4. High-Quality LED Lamp
Say goodbye to waiting for your nails to dry. We've got better things to do. Using a LED lamp to cure your gels will give you a fantastic finish and the perfect cure. When you purchase a DIY gel nail kit, you don't just get gel polishes but also receive a high-quality 80W LED lamp that cures your gel polish with UV light. With rapid heating settings, three timer options, auto-sensor, and an LCD display, this lamp cures your nail polish in just fifteen seconds.
5. Gel Remover Liquid & Foil Wraps
Since these kits are meant to replace the salon for you, they give you everything you might need with your manicure. You also get a gel remover liquid and some gel remover foil wraps to conveniently take off your polish.
6. Nail File, Cuticle Pusher & Lint-Free Wipes
Each kit also equips you with important accessories required to prepare your nails for the manicure.
7. Nail Stickers
Last but not least, you also get four nail stickers to decorate your nail designs and make them look more stunning.
You also get detailed instructions on how to set up the lamp, prepare your nails, and use all the contents provided in the kit.
How Much Do DIY Gel Nail Kits Cost?
At-home gel nail kits are priced differently as per the colours, sizes, polishes, etc. but you can get Luxe kits anywhere between £55 to £120 depending upon the type of kit you choose.
Is It Worth Doing Gel Nails at Home?
With so many benefits of purchasing a gel nails kit and doing your nails at home, we think it is absolutely worth every single penny. If you are still confused about is it worth doing gel nails at home, why not try a kit once? After all, it is so affordable and there is no harm in trying it? Furthermore, how can you tell something is not worth it unless you try it?
The Bottom Line
We hope we helped you find the answer to "is a gel nail kit worth it?". If you follow the instructions thoroughly, pay more attention to the details, and be patient, you can do gel nails like a pro that no one can tell. So, are you excited to get a DIY gel nail kit to give an exciting makeover to your nails at home? If yes, which gel nail design are you more intrigued to try out?