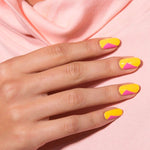 Inspo Series: 7 Gel Nail Ideas for Summer That'll Go Viral Post Lockdown
The lockdown is ending and the summer is right around the corner. Are you excited to get back to your social life outside? Wondering which hairstyles, outfits, makeup looks, and nail designs are you going to sport once the lockdown is over? We're not sure about the rest but we know seven best gel nail ideas for summer that are sure to create a buzz in 2021 post this lockdown.
Gel Nails: The Trendiest Choice for Every Woman!
We know you have dozens of plans when the lockdown ends. How about we suggest one more classic idea that you are sure to love? This summer, try some gorgeous gel nail designs that will fetch you loads of compliments wherever you go.
Not sure what gel nails are? Well, gel nails are artificial nails primarily made using a quick-dry gel formula that is cured or quickly turned into a hard nail when exposed to UV light.
Not going into the technicality of the key ingredients, gel nails are completely different from acrylic nails – just in case you were wondering if they were the same. These long-lasting and sturdy gel nails are loved by women because of how luxurious they look. They can instantly revamp your hands from dull to exciting.
Gel nails are not only popular for their stunning look but also because of how durable they are. If you go for gel nails, the fear of breakage or chipping nails would not plague you at all, and you can literally carry out all your day-to-day chores without any worries. And, if you learn to do them at home, you can save hefty bills at the salon each year.
7 Stunning Gel Nail Ideas for Summer to Try Post Lockdown
Thinking about the gel nail designs for summer that can match your personal style? We have your back. We have listed the seven most inspiration-worthy gel nail ideas for summer that you can confidently sport once the lockdown is lifted.
1: Beach Vibes
If you are missing your vacation and planning to get on an island getaway as soon as possible, you must go for Beach Vibes gel nails. You can either opt for the wave texture, draw some cool pine trees or simply go for a sunset ombré look. With beachy nail designs, you can also choose to display cool things you generally spot at the beach.
2: Flowers Power
Sporting flowers on your nails is another timeless classic that can never be out of fashion. Flower nails are elegant and go well with all skin shades & outfits. No matter which flowers you choose, they are sure to make a statement for you.
3: Stripes
In 2021, stripes on nails are going to be the rage. You can either go for four matte nails and adopt stripes on only one nail or go unsymmetrical with stripes on all five nails. The choice is all yours!
4: Colour Pop
Colour pop is one of our most favourite gel nail designs for summer. This design adds a pop of uniqueness to your overall look by a bold yet complimenting nail colour. You can either choose an eye-catching colour for all five nails or simply go for a monochrome colour theme with one nail popped with a brighter colour.
5: Pastels
Pastels paired with glitters, rhinestones, or even sported alone are sure to take your style quo an inch higher this summer. No matter what your colour choice is, pastel gel nails will exude cool vibes your way.
6: Brights
2021 is the year of ditching all the darkness and shadiness. So, how can we forget the brights? We particularly suggest pulling off yellow, orange, and even neon shades to go trendy this summer.
7: Tutti Frutti
Last but not least, adore your favourite fruits by choosing the tutti frutti nail art this summer. Just get the most delicious fruits painted on your nails and get ready to turn all heads towards you.
Wrapping Up
We hope we helped you find the most exciting gel nail ideas for summer. 2021 is a year of hope symbolised by bright colours and so are the gel nail ideas that are predicted to go viral this year! Trust us – you can never go wrong with gel nails. They are not only interesting and fun to do but you can be absolutely experimental with them as per your taste, preference, and mood.
So, which of these ideas would you like to try on first? What else do you think can go viral in the months to come?