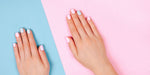 Removing Gels? What Do You Wipe Gel Nails With At The End?
Wondering what do you wipe gel nails with at the end but can't seem to find the perfect answer? Well, you are in the right place. In this article, we will help you understand what gel nails are wiped at the end to look shiny and professional – just like a salon.
Get Carefree with Gel Nails
For women who can't handle anything beyond perfect or are too busy to care for their manicure, gel nails are the perfect answer. They are gorgeous, classic, and most importantly, durable. With endless colours, designs, and finishes to play with, these flawless nails are very versatile. Furthermore, they are super easy to do at home and keep you party-ready all the time.
Although many women easily do their gel nails at home using DIY gel nail kits, they are often concerned about the finishing touch. In this article, we will help you understand what do you wipe gel nails with at the end so that you are one step closer to a salon-like manicure without spending hefty money.
Manicure Looking Unfinished? What Do You Wipe Gel Nails With At The End
Gel nails might look unfinished and cheap if not done perfectly. Sometimes, you either see a sticky layer of gel nail polish or notice some residue on the base of your nails. If your gel nail polish is not properly finished, it can ruin within a few hours and obviously, look cheap and nasty. Who wants their manicure to look terrible? Of course, no one.
So, in case you encounter a similar situation, you are not alone and you can easily handle it alone. When you are done doing your gel nails at home, you can use rubbing alcohol to give a finishing touch to your manicure and remove the tacky layer of the gel polish.
Don't worry. Once the gel polish is properly cured, it wouldn't come off by using rubbing alcohol. All you need is to make sure you use a small quantity for the finishing touch.
For people who find purchasing a bottle of rubbing alcohol and using a cotton pad to wipe the tacky layer messy, or those who think they might go overboard and harm their nails, there is an easier solution. You can opt for lint-free alcohol wipes for nails to get the job done. A non-acetone polish remover also works the same way.
Tips for A Perfect Gel Nail Manicure at Home
Although there are solutions to sort out tacky nail polish, doing them more carefully would never cause such a situation. If you want a perfect curing of your gel nail paint, you must apply thin coats and work patiently. Working in thin layers will ensure the final outcome is not too sticky or cheap-looking. Furthermore, if you carefully apply the nail paint in thin coats, you can increase the longevity of your manicure as you wouldn't have to worry about chipping them off.
What Do You Wipe Gels Nails With At The End?
In case you want to take your gel nail polish off completely, here is how what do you wipe gel nails with at the end:
Take some

gel remover liquid

in a small plastic or ceramic bowl. Do not take a metallic bowl.

Soak your fingertips inside the bowl and wait for a few seconds.

When your gel nails start looking gooey, use a cuticle pusher to gently lift the polish from your nails and peel them off completely.

In case the nail polish is sticky but not coming off completely, soak your fingertips again and wait a little longer. This way, the polish should easily come off the next time.

Once you have completely removed the polish, finally wipe your nails with some lint-free alcohol wipes to get rid of any residue.

In case you still notice any residue or rough patches, buff your nails gently.

After the nails are properly cleaned, it is time to wash your hands to get rid of all the chemicals on the surface and moisturise them.

Lastly, make sure to do some nail care by applying a few drops of castor oil for better shine, strength, and healthy growth of your nails.
The Bottom Line
We hope we helped you understand what do you wipe gel nails with at the end. If you apply your nail polish patiently and carefully, you wouldn't end up with shabby-looking nail paint. Furthermore, if you apply and remove your gel nails properly, you wouldn't have to worry about getting your nails dull, brittle, or weaker.
Worried about purchasing everything suggested above separately? You don't need to. Simply grab an at-home gel nails kit and find everything you need for preparing, polishing, and removing your gel nails without spending extravagantly.