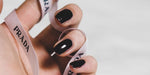 The 10 Nail Tips Every Girl Should Know
Think you know every trick in the book when it comes to painting your nails? We've got the secret DIY hacks that will change your regime for life. From tips for smoothing out a smudge to getting glitter off in a sweep, they're super simple tricks and tweaks we couldn't be without.
1. Freeze dry fingers
When you've painted on a fresh lick of polish, try this speed drying trick; dunk your nails in a bowl of ice water to seal your colour down. Lacquer dries faster in cooler temps, so two or three minutes will do, et voila, a hard-wear manicure in less than half the time.
2. The winning streak
Are you the girl whose polish chips at the sight of a door or keyboard? Us too, but we've found the long-wear trick that manicurists keep up their sleeve. Once you've finished painting, brush your clear topcoat along the tip of your nail; this seal-down streak closes up the raw edge to help lacquer last much longer.  
3. Slick on, slick off
If you're an overzealous polisher, grab a tub of Vaseline; this wonder jelly protects your skin from errant colour strokes. Slick it around the edges on both fingers and toes, making sure not to touch the nail, and should you paint on skin, it just sticks to the balm so you can simply wipe it away.
4. Smooth it out with saliva
Now, this sounds GROSS but it honestly works on a pesky polish smudge; if you've caused a dent while your nails are still wet, you can lick it into place. Saliva smoothes it instantly without making the problem worse, though we put the emphasis on not eating it because, well, it's nail polish.
5. Cling on to clippings
Toenails are the worst for this – clippings that ping everywhere - but there is a way to trim down your nails without having them fly into eyes. If you lightly wet your nails and clippers, those clippings will stick to the blade, making it easy to find them and sweep them up minus the massive, shameful toenail hunt.
6. The basecoat is all white
If you're working with a neon hue, layer white polish as a base; this will give bright shades an opaque finish that boosts their vibrancy.  
7. Go for glitter on gels
The good thing about gel nail polish? It's not so prone to chips. The bad thing? When it grows out, there's a gap by cuticles. And, sure, it's not as ugly as losing a huge chunk of the paint, but if you try to lacquer over it, you'll just get a tell-tale mark. Instead of trying to colour match, go for a nail art fix, brushing some glitter over the gap to hide where your gel nails end.
8. French tips trick
The downside to using a tape stencil when painting on French tips? The tape puckers when you try to shape it to your natural curve. Elastic bands make it easier as they're super pliable, so grab one and knot it in the middle before looping over your nail. Loop the other end over your thumb to gain some leverage, you can pull it taut with this trick technique so it won't wiggle off.  On the finger, place it cleverly to shape the tip you want, then fill in with a white polish for a flawless French mani.
9. Go easy on the paint
Sure, one thick coat may be speedy at getting that polish on, but it also dries a lot slower than our easy technique. Even when you think it's all fine, it hasn't set right through, while three thin layers seal down quickly without the risk of smears.
10. Get the glitter off
The only bad thing about glitter is that it's so damn hard to remove – it's almost not having worth having shimmering nails for the ache of getting it off. But if you rip up a cotton ball into ten pieces and soak them in acetone, you can tape them over each finger and let them get to work. Leave them on for 10 minutes while you have a Netflix browse, and when you remove them  the glitter polish should simply sweep away